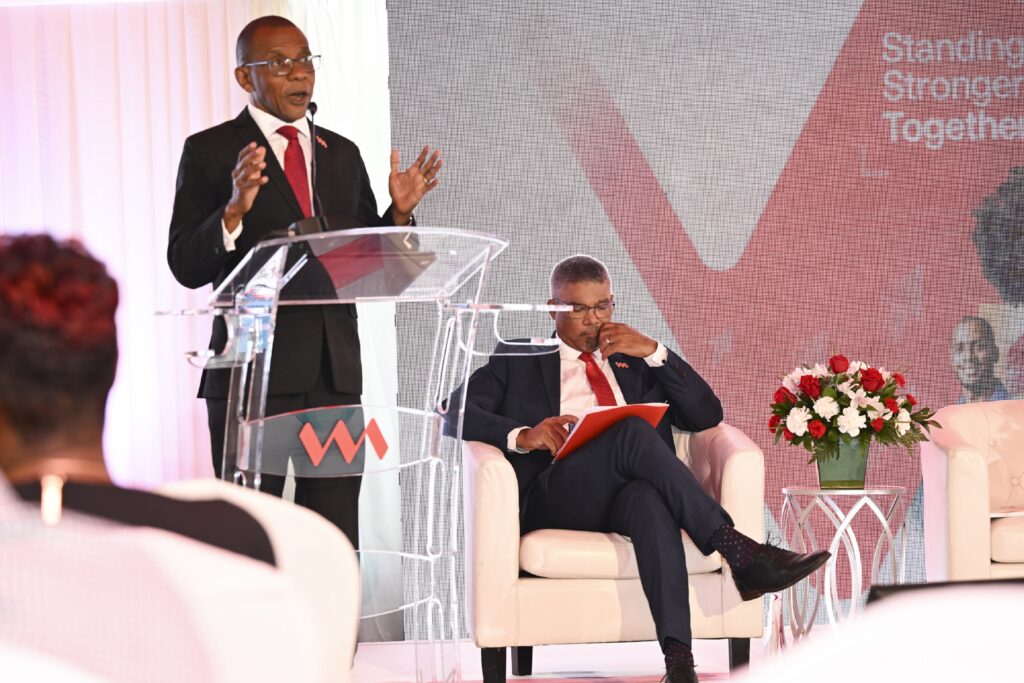 The VM Group aims to build on the sustainable growth strategies which have led to a significant increase in market share in its key business lines over the past five years.
While highlighting the organisation's performance in 2022 at a recent VM Group Special Members' Meeting, Group President and CEO, Courtney Campbell, informed attendees that the Group's operating revenue has grown by 97 percent since 2017.
"We have been successfully transforming our business to become stronger. Over the last five years, we have transformed our revenue base through growth in our core businesses, introducing new products and services, entering new markets and targeting new business segments; and we have launched new business lines and new business models," he told attendees at St. Andrew's Terra-Nova All-Suite Hotel.
Among the near-future growth ambitions for the Group is completing VM Investment Limited's (VMIL) acquisition of Republic Funds (Barbados) and targeting larger deals to expand its asset management portfolio locally and regionally. There are also plans to expand payment services with the rollout of a full suite of credit card products for personal and business use and continued diversification of service offerings to include foreign exchange trading through VM Money Transfer Services. Advancing digital transformation by strengthening data analytics capabilities and offering simplified onboarding solutions for Members and clients are also priorities.
Commenting further on the organisation's digital transformation, Campbell informed that, "we are anticipating the opportunities that VM Innovations, VM Property Services and VM Building Society will together be working to offer to potential homeowners, through the mortgage ecosystem. It will be an innovative turnkey solution that will bring together several stakeholders on a single integrated digital platform and provide Members with full-service options for mortgage and all other related services end-to-end across the customer buying process."
He noted that VMIL will focus on expanding its private equity investment business line, which offers significant potential for accelerated growth in business output for small and medium enterprises, and increased employment resulting from expansion. Business customers residing overseas are also set to benefit from access to two new loan products, to be provided through the UK-based VM Finance Limited. Campbell pointed out that in 2022, VM Finance's operating revenue and net profit increased by 47.8% & 37.8% respectively. Between 2019 and 2022, its loan portfolio grew from 18.5 to 53 million pounds. The business has also secured funding from a top UK bank which will enable it to double its portfolio in the next 18 months.
In 2022, a year when the Group entered the credit card market, introduced a new business model for real estate management with the PropMan solution and rolled out its online business banking platform, VM's operating revenue grew by almost 17 percent compared to 2021. The year-to-year comparison also revealed growth of 9 percent in loans, 13.87 percent increase in deposits and 19 percent growth in remittance transactions, which have tripled in volume since 2017. VM Wealth Management Limited's Unit Trust portfolio has consistently been a very competitive option and VM Pensions Management Limited continues to foster financial inclusion through affordable retirement planning solutions.
In closing his address, Campbell assured Members that, "the VM Group is well prepared for the future with a strong team, backed by a healthy learning culture and the right strategies for success."