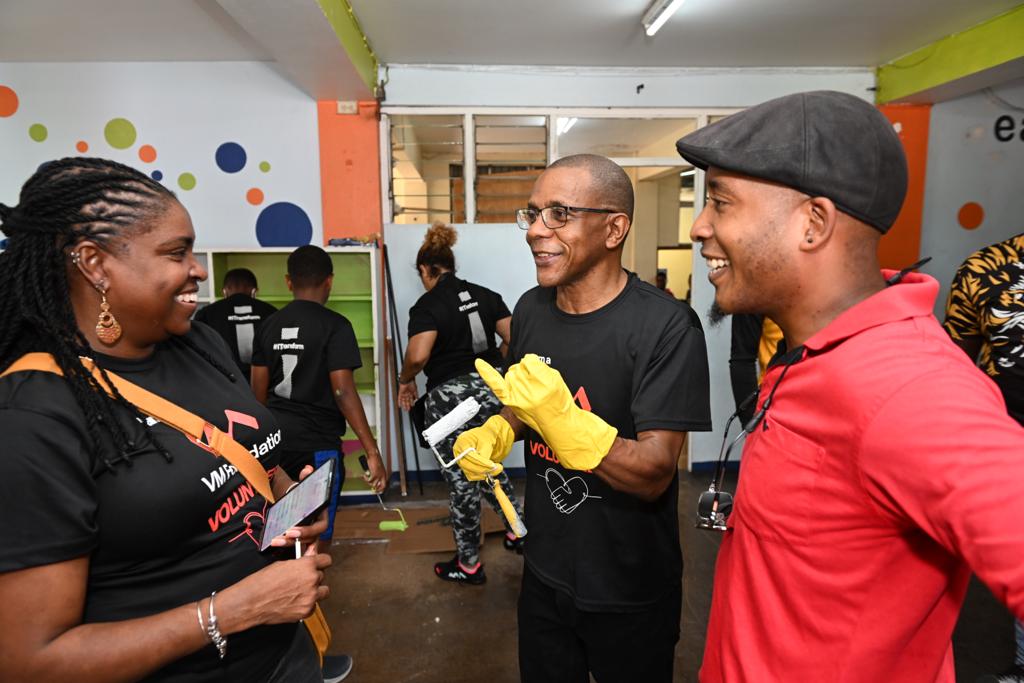 Users of the Junior Library section of the Kingston and St. Andrew Parish Library can now do so more comfortably, thanks to extensive refurbishing and beautification work undertaken by the VM Group for its 2023 Labour Day project.
The Labour Day project builds on a broader partnership between the VM Foundation and the Jamaica Library Service's (JLS) National Reading Competition in 2022. The Foundation partnered with the JLS for this year's Read Across Jamaica Day and will again be a major sponsor of the reading competition.
Chief Executive Officer of the VM Group Limited and Chairman of the VM Foundation, Courtney Campbell, emphasized that the support was in keeping with the Group's drive to nurture purposeful partnerships to empower Jamaicans and transform lives.
"The Jamaica Library Service has, for years, been a vehicle for promoting literacy across the island and this is in direct alignment with the mandate of the VM Foundation – to use education as transformative agent. The partnership was a natural fit and the selection of this location for our project was deliberate as the Kingston & St Andrew Parish Library is the largest public library facility in Jamaica. This should have a wide and far-reaching impact as we work to transform the lives of the next generation."
The support was facilitated through a group-wide effort with financial and technical contributions from different strategic business units including the VM Building Society, VM Property Services Limited, VM Money Transfer Services and the VM Overseas Representative Offices. The main focus for the VM team on Labour Day was cleaning, painting and renovating several sections of the Junior Library. This included the reading room, play area, audio visual room, restrooms, Rural and Urban Development (RUD) Working Room as well as the entrance to the facility and outdoors. The library was also gifted with a new entrance door and ceiling fan.
Kishma Simpson, Senior Director at the JLS, said the support will go a far way in improving the library spaces to offer information services and attract and retain users. "We are extremely grateful for the support provided by the VM team. With the work that was carried out, we are confident that the children who currently use this facility will be very happy. The space will now be more comfortable and appealing to stimulate young minds as we seek to encourage greater use of the library's services. Also, for a while, we were concerned about the safety of our visitors and staff as our entrance door was vandalized recently and needed significant repair, so we are very grateful that VM solved that problem for us. Thank you VM Group, and we look forward to the future positive outcomes of this partnership".